UPCOMING PROGRAM:
* February 10th 2014: Performative lecture by PINK CUBE proprietor Anja Carr and arthistory student and writer Vilde Horvei about PINK CUBE and Carr's practice in general, Open Forum, Kunstnernes Hus, Oslo.
* May 2014: Guest-curator Charlotte Jansen (London, UK)
* August 2014: Guest-curator Maaike Gouwenberg (Rotterdam, NL)
Read more about the program in the February Newsletter
NEWS:
* The show Battle 13 at PINK CUBE is nominated for the Oslo-prize
Best Art 2013, read interview (in Norwegian) or vote here. THANKS!
* Interview in ArtSceneTrondheim about PINK CUBE and other projects (in
Norwegian)
* Interview in Måg Magazine #13 page 78 - 93 (English)
* Pictures from PINK CUBE and the other spaces at Oslo Gallery Weekend
at Kunstkritikk.no
* Review of the exhibition Battle 13: Bård Ask vs. Lars Brekke by Kjetil Røed
at Kunstkritikk.no
* PINK CUBE in April issue of Frieze Magazine
* Article about PINK CUBE in the e-version of Dazed and Confused
* PINK CUBE is the winner of the Oslo-price "Best art 2012"
* PINK CUBE 2 years January 28th 2013 with 12 exhibitions so far!
* Article about PINK CUBE in the new journal PARAGONE#1 Dec 2012
* Pictures from the art fair WHAT A MESS! at Kunstforum.as
* PINK CUBE at Nasjonalgalleriet, NRK 2012 (Norwegian TV-program)


From the online magazine Måg #13, inteview page 78 - 93, read it here
RECENTLY:



Performance by Agnes Nedregard at the show Battle 14: Agnes Nedregard (NO) vs. Moray Hillary (UK) May - June 2013 at PINK CUBE as part of Oslo Gallery Weekend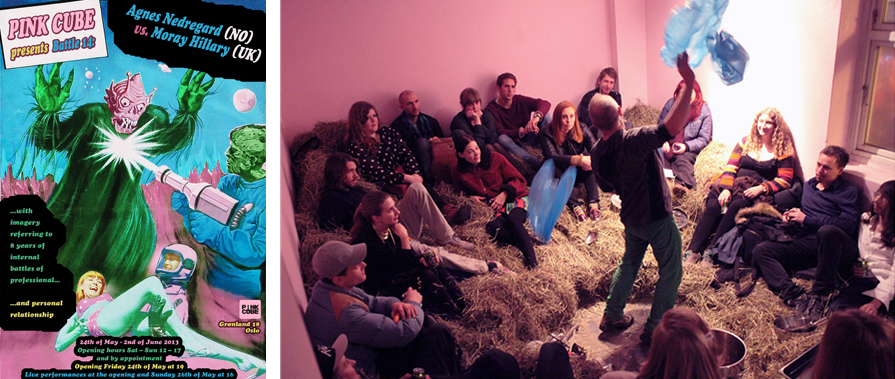 Poster Battle 14 (left) and Battle 10: Janna Thöle-Juul (NO) vs. Fast Forward (NY) Nov 2012 (right)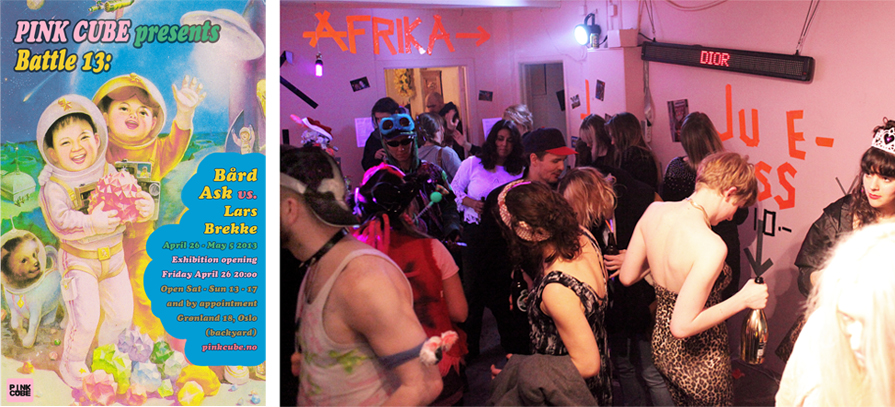 Poster Battle 13 April - May 2013 (left) and Battle 11: Mom & Jerry (DK) vs. That Purple Stuff (NO/US) with guest star EVERBABE (NO) Dec 2012 (right)
SOME PREVIOUS POSTERS: