UPCOMING:
Battle 19: Bakketun/Ballo/Norum (NO) vs. Brookman/White (CO/IL) 3 - 12 July 2015


Left: Bakketun/Ballo/Norum: Descend along my eyelashes performance detail, 2014
Right: Brookman/White: Wishing videostill, 2015
RECENTLY:
Battle 18: Trollkrem (NO) vs. Kirsty Kross (AU) @ SUPERMARKET Stockholm Independent Art Fair
Svarta Huset, Telefonplan, Stockholm, 16 – 19 April 2015 Facebook-event with PR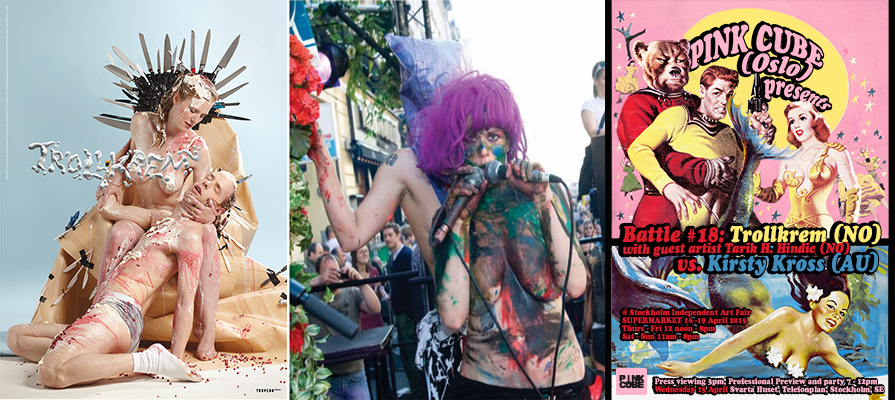 Left: Poster, part of Trollkrem's fan-poster-serie (tribute to artist-duo Trollkrem, photo by Tove Sivertsen, graphic design by Bjørnar Pedersen, Trollkremfont by Luke Libera Moore, 2014)
Middle: Kirsty Kross as Legs Akimbo from Team Plasitque, Performance for SO36, May Day, Berlin
Right: Poster for Battle #18 by Anja Carr
NEWS:
* Article about the art scene in Oslo and PINK CUBE. Travel + Leisure Magazine (NYC) May 2015, print issue (in stores now)
* Spring 2015: Recommendation in the Oslo Guide (Norwegian)
* December 2014: Interview KUNSTforum #4 2014 Norwegian and short version in English
* December 2014: Short interview about Battle 17 etc. Artlover #22 (Swedish)
<--- See more interviews on the left menu
* Video and pictures from the performative lecture by writer Vilde Horvei and PINK CUBE proprietor Anja Carr about PINK CUBE and Carr's practice in general, Open Forum, Kunstnernes Hus, Oslo (English)
* Pictures from PINK CUBE and the other spaces at Oslo Gallery Weekend at Kunstkritikk.no
* Review of the exhibition Battle 13: Bård Ask vs. Lars Brekke by Kjetil Røed at Kunstkritikk.no
* PINK CUBE in April issue of Frieze Magazine (UK)
* Article about PINK CUBE in Dazed and Confused Magazine (UK)
* PINK CUBE is the winner of the Oslo-price "Best art 2012"
* Pictures from the art fair WHAT A MESS! at Kunstforum.as
* PINK CUBE at Nasjonalgalleriet, NRK 2012 (Norwegian TV-program)
PREVIOUSLY: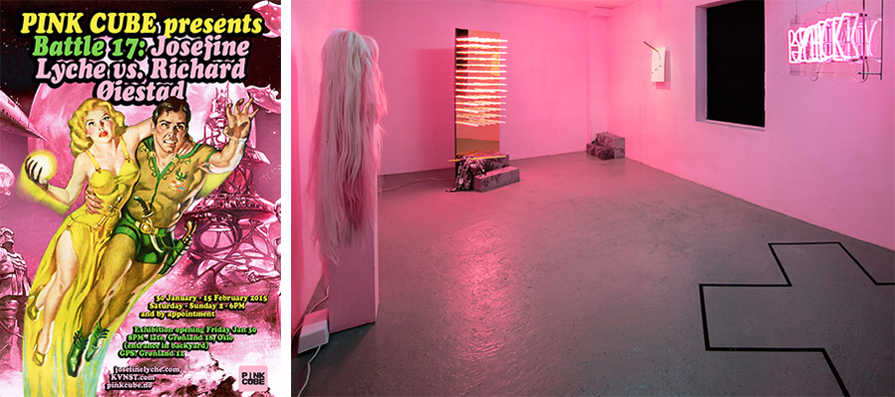 Battle 17: Josefine Lyche vs. Richard Øiestad 30 Jan - 15 Feb 2015 FB-event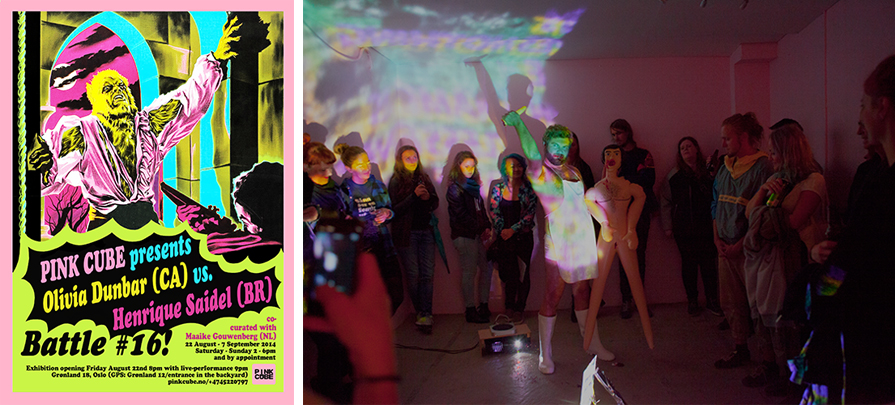 Battle 16: Olivia Dunbar (CA) vs. Henrique Saidel (BR) 2014
co-curated with Maaike Gouwenberg (NL) FB-event


Battle 15: Wyse + Gabriely (IL) vs. Birkeland + Kleiva (NY/NO)
co-curated with NO WAY (London, UK): live-performances at the opening 2014 (right)


Performance by Agnes Nedregard at the show Battle 14: Agnes Nedregard (NO) vs. Moray Hillary (UK) 2013 at PINK CUBE as part of Oslo Gallery Weekend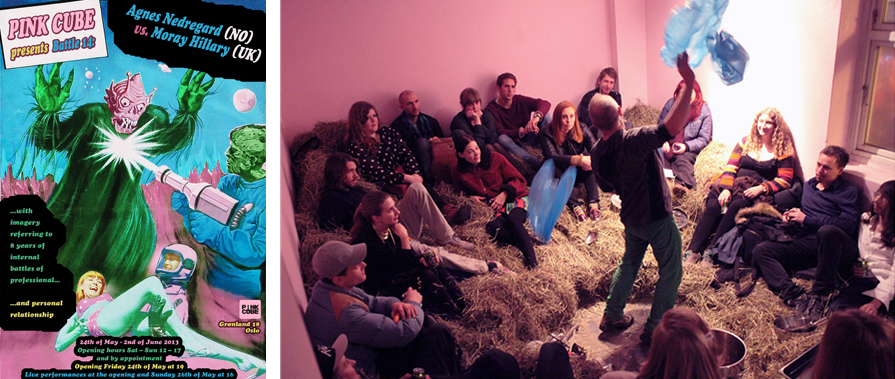 Poster Battle 14 (left) and Battle 10: Janna Thöle-Juul (NO) vs. Fast Forward (NY) 2012 (right)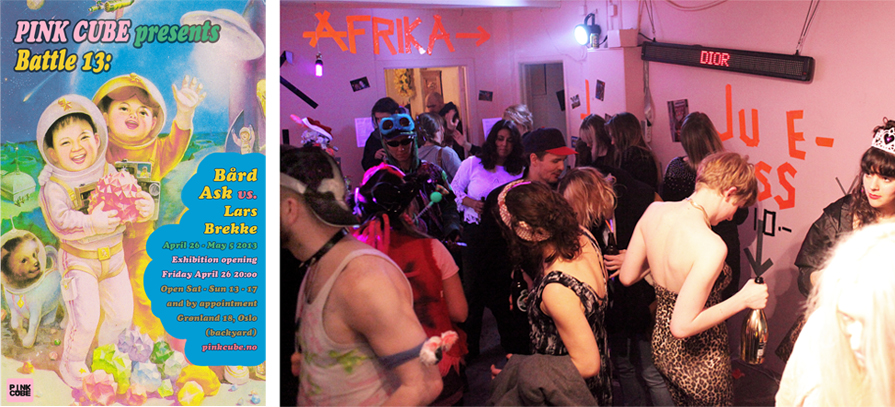 Poster Battle 13 April - May 2013 (left) and Battle 11: Mom & Jerry (DK) vs. That Purple Stuff (NO/US) with guest star EVERBABE (NO) 2012 (right)
SOME PREVIOUS POSTERS: