CURRENT:
* August 22nd - September 7th 2014: Battle 16: Olivia Dunbar (CA) vs. Henrique Saidel (BR)
co-curated with Maaike Gouwenberg (NL) Teaser in Natt & Dag Magazine, August issue (NO)
Facebook event with PR here
Read more about the guest-curators 2014 in the February Newsletter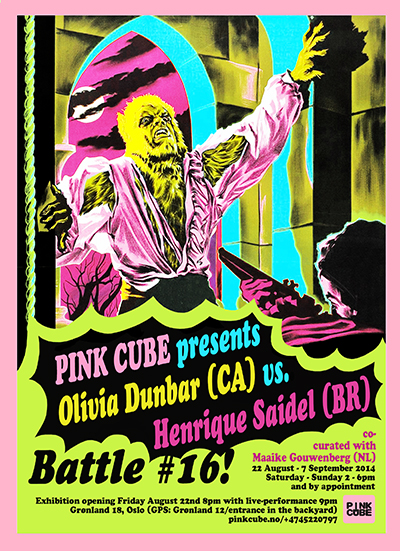 SOME OLD NEWS:
* Video and pictures here from the performative lecture by writer Vilde Horvei and PINK CUBE proprietor Anja Carr about PINK CUBE and Carr's practice in general, Open Forum, Kunstnernes Hus, Oslo.
* PINK CUBE 3 years January 28th 2014!
* Pictures from PINK CUBE and the other spaces at Oslo Gallery Weekend at Kunstkritikk.no
* Review of the exhibition Battle 13: Bård Ask vs. Lars Brekke by Kjetil Røed at Kunstkritikk.no
* PINK CUBE in April issue of Frieze Magazine
* Article about PINK CUBE in Dazed and Confused Magazine
* PINK CUBE is the winner of the Oslo-price "Best art 2012"
* Pictures from the art fair WHAT A MESS! at Kunstforum.as
* PINK CUBE at Nasjonalgalleriet, NRK 2012 (Norwegian TV-program)


From the online magazine Måg #13, inteview page 78 - 93, read it here
RECENTLY:



Poster for the show Battle 15: Wyse + Gabriely (IL) vs. Birkeland + Kleiva (NY/NO)
co-curated with NO WAY (London, UK) (left) and live-performances at the opening June 13th 2014 (right)


Performance by Agnes Nedregard at the show Battle 14: Agnes Nedregard (NO) vs. Moray Hillary (UK) May - June 2013 at PINK CUBE as part of Oslo Gallery Weekend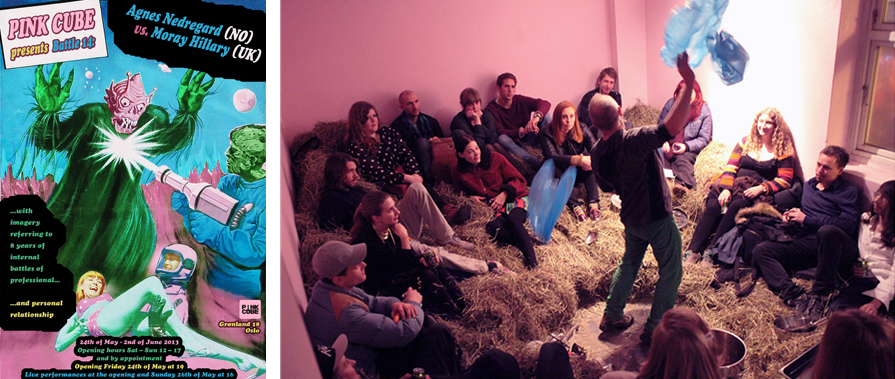 Poster Battle 14 (left) and Battle 10: Janna Thöle-Juul (NO) vs. Fast Forward (NY) Nov 2012 (right)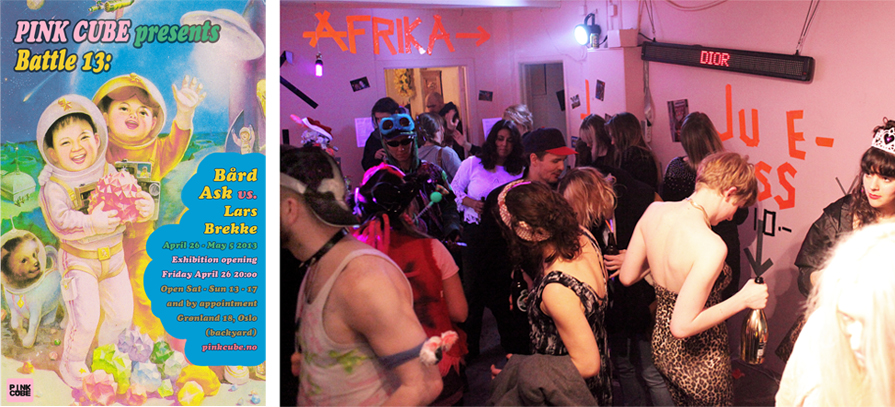 Poster Battle 13 April - May 2013 (left) and Battle 11: Mom & Jerry (DK) vs. That Purple Stuff (NO/US) with guest star EVERBABE (NO) Dec 2012 (right)
SOME PREVIOUS POSTERS: